This weeks post for you is from Pat, you're all welcome to join us at
The Outlawz
!!
Welcome to this week's sketch challenge!!
And something new!!!
This month we will start with a bonus prize. If we reach 40 entries in this month, we will draw an extra winner for the bonus prize, a gift voucher of $5 for Make it Crafty.
On behalf of Sandra, Trina, Darcy, Margaret, Lisbeth, Emily, and Nini, I want to thank everyone who submitted their projects in last week's challenge! The entries were all fabulous and it was fun to see your creations! We love seeing what you come up with using our sketch as inspiration.
Remember you can create anything, a card, tag, scrap page, as long as the sketch is your inspiration and recognizable.
For the month of December, we have Ching-Chou Kuik Digital Stamps for our sponsor! Our monthly winner will win a prize of 3 digis from Ching-Chou's Etsy store. Please stop by her store and see her wonderful designs.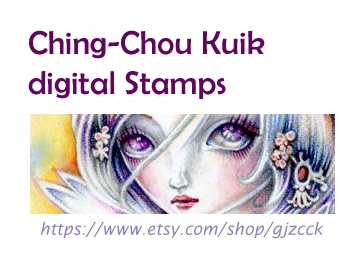 She also has a facebook page which she would love for her to visit and join! The link to her facebook page is HERE
Here is the new sketch for this week!
I used Scarlet Lips this week and this seems like a romantic image to me...perhaps an early Valentine?
Nini's take is so soft and feminine...gorgeous!
using Dandelion Field in a color pallette and sun-like spokes to make me long for spring already! Beautiful!
Using Dandelion Field with a cool color combination! What a neat contrast to see these two together? Another beauty!
using"hallo Owlie" for an adorable card! Don't you love that spider?
Thank you for looking at our cards and we hope that you found some inspiration to take part in the Sketch Challenge!! We would really love to see what you come up with!